Linda Ballou Shares Part One of Her Recent 'Deep Dive Down Under'
The ultimate Australian experience with Overseas Adventure Travel is a journey through a maze of micro-climates, multi-cultures and natural wonders. It begins in Melbourne and ends in Sydney; on the way taking in Alice Springs, Uluru, the Daintree forest (the oldest tropical forest on earth), and the threatened Great Barrier Reef.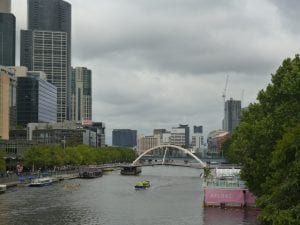 Melbourne is a vibrant city full of life proud of its rich heritage. A liberal sprinkling of tree-tunnels, gardens, and other green spaces throughout the city make it an exciting, yet soothing place to be on foot.
Gleaming, ultra-modern skyscrapers are juxtaposed against heritage buildings built in the 1890s when the discovery of gold made Melbourne the richest city in Australia.
Dozens of cranes teetering atop the tallest buildings speak of the growing pains in this city of not quite 5 million people.
The ding-ding of a free trolley that circles the city center where commuters dash to work and tourists ply the massive shopping malls brings San Francisco to mind. Our hotel was in the middle of the city with easy access to the National Gallery of Victoria museum, the State Library with exhibits on display, and abundant shopping and restaurants.
My favorite stop was the Hardware Lane closed to automobiles and lined with bustling eateries for all tastes. In this café, culture buskers provide free entertainment and artists cover the walls with colorful murals.
Flinders Street railway station beside the Yarra River is the main public transportation artery serving the entire metropolitan rail network area. There too, at the corner of Flinders and Swanston, is Federation Square, host to thousands of music and cultural events annually and home to The Ian Potter Center, a wonderful cluster of art galleries featuring Aboriginal and modern Australian art.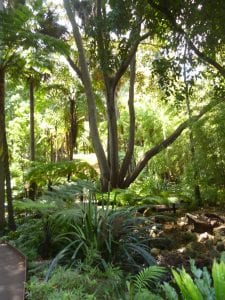 A river walk on balmy nights take you past throbbing nightclubs to bridges spanning the river to a plethora of trendy eateries. A two-hour boat ride up the Yarra River deposits you at the Royal Botanic Garden, a 10-acre affair graced with towering trees and a tropical forest reincarnated.
We were greeted at the garden by a young aboriginal man who welcomed us with a traditional smoke ceremony in which we were enjoined to honor the elders who protect, and the young who provide in his culture.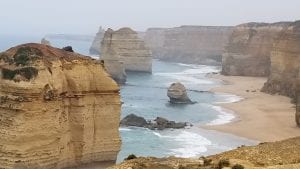 On my free day in Melbourne, I arranged a daytrip with Autotopia to the Great Ocean Road, only a couple of hours away. They offer a tour in reverse beginning with the famous 12 Apostles to avoid crowds.
Today, there are only nine striated mud and sand stone sea stacks (photo above left) carved by the ceaseless waves crashing upon them from Antarctica.
This wild coast, scene of hundreds of shipwrecks, is a marine preserve and national park.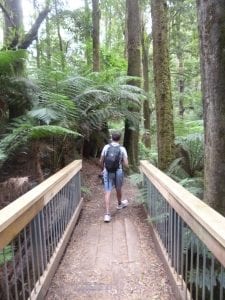 A treat on the drive back from southern Victoria to Melbourne along the stunning coast was a walk-through Otway National Park. (See photo at left.) The soothing stroll through a temperate rain forest shaded by gigantic, fanning tree ferns beside a tinkling creek was a welcome surprise.
A stop at Apollo Bay where bathers frolicked in turquoise waters garnered a lunch of barramundi, a popular white fish that is rich in healthful omega 3s.
A three-hour flight brought us to Alice Springs, a desert flower, in the middle of the striking MacDonnell Range. Hundreds of cockatoos dive-bombed the trees by the welcoming pool and spa in our hotel. A refreshing dip under the full moon and dazzling desert sky took the kinks out of a busy travel day.
Alice Springs is literally in the red center of Australia. The famous Larapinta Trail across the spine of the MacDonnell Range to Sleeping Woman Mountain that calls to trekkers from around the globe begins here.
At Simpson Gorge, a billabong (oxbow lake) that has sustained aboriginal people for thousands of years, we learned about the ways of the tribes who call this land home from Lindsey, a local guide, who is also a wonderful artist.
Albert Namatjira was the first of the aboriginal artists to capture this world in watercolor landscapes. He became quite famous for his haunting ghost gum trees; so much so, that in 1957 he was the first aboriginal to be deemed human, not just fauna in the natural environment with no rights. He was granted restricted Australian citizenship, which allowed him to vote, own land, build a house and buy alcohol.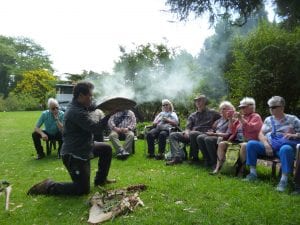 The history of the aboriginal people in Australia is a sad, dark affair. From the time of the early colonists, the natives were considered savages and treated as sub-human, but today, steps are being taken towards reconciliation.
For instance, at our next stop, "The Rock" or Uluru, the Anangu people were given back title of Uluru-Kata Tjuta National Park, a UNESCO World Heritage Site, in 1985.
They have a working community on the land and receive all proceeds from sales in the Cultural Center located inside the park.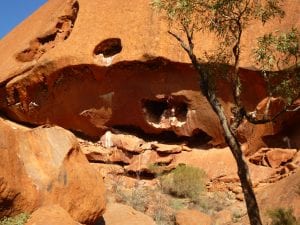 A morning walk around the base of Uluru (approximately 10km) revealed rock paintings from thousands of years of human habitation. Springs flowing into waterholes allowed the people to survive in a climate where temps often exceeds 100 degrees.
A cave where women cooked and tended to children is cool and protected from winds.
Another cave sculpted by wind served as the place for men to create their spears with a kangaroo claws for tips.
From the distance, Uluru looks barren and foreboding, but at the base, (see photo directly above) ghost gum trees and willows line the paths and a cooling breeze keep pesky flies at bay.
English/Australian artist, Bruce Munroe, succumbed to the spiritual energy of the Uluru and magic of the desert nights thirty years ago. In response, he created the "Field of Light" in which 50,000 individually delicate light stems brought here from London were placed in an undulating pattern on an area of over 49,000 square meters equivalent to nearly seven football fields.
He says, "The Field of Light at Uluru represents the convergence of the land and culture and my own re-learning." Sitting on a bench on a warm night with this spectacular array of colored lights beneath a velvet dome sparkling with diamonds, I felt I had landed in the center of the universe.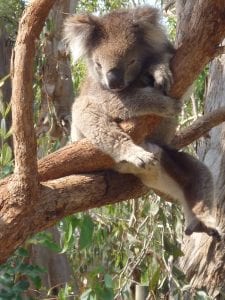 Stay with me as I take you to the Daintree Forest, the Great Barrier Reef in the Northland, and on to Sydney, the city of sails, in Part Two of my Ultimate Australia Journey with Overseas Adventure Travel.
Linda
Linda Ballou is an adventure travel writer with a host of travel articles on her site www.LostAngelAdventures.com. You will also find information about her travel memoir, Lost Angel Walkabout-One Traveler's Tales from Alaska to New Zealand, and Lost Angel in Paradise where she shares her favorite hikes and day trips on the coast of California.
Subscribe to her blog www.LindaBallouTalkingtoYou.com to receive updates on her books, travel destinations and events.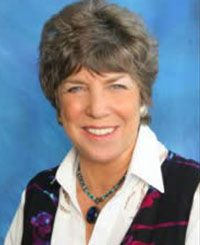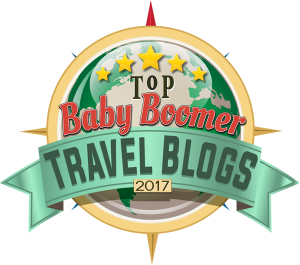 Linda's mission is to experience as many beautiful places on our planet as she can before they are no more. Travel tales relating her experiences while kayaking, horseback riding, sailing, birding and hiking about the globe have appeared in numerous national magazines. She had great fun collecting travel stories, and profiles of people she met in "naturally high places" for her book, Lost Angel Walkabout-One Traveler's Tales. Her latest book Lost Angel Unleashed is the third book in her Lost Angel Trilogy Go to
LostAngelAdventures.com
for more adventures. For more about Linda's novels and media offerings go to.
www.LindaBallouAuthor.com